Professional Home Remodeling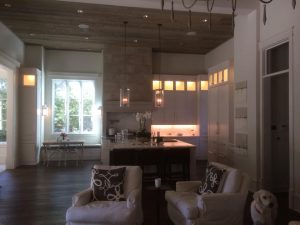 Home Remodeler Georgetown KY
We get it - your home is your castle. As a homeowner in Georgetown, Frankfort, Paris, or Versailles, you will spend a good portion of your life within your living quarters. We understand the value of creating an environment that is both relaxing and beautiful - functional and comforting.
Our contractors also understand the value you place on your property. You want your house to go up in value, not down. When considering a remodeling project for your home, you are placing your trust in contractors to use their skill and experience to enhance the value of your home and giving you peace and security in your investment.
Residential Remodeling Frankfort KY
Perhaps you'd like a new and renovated kitchen - we happen to know quite a bit about that. Or maybe you'd like to update that bathroom - we can help you there as well.
Perhaps it's something else. Well, if it's related to home remodeling, we guarantee we can handle it for you, and there's a reason we're the #1 remodeling company in Kentucky!
You can count on our professional remodeling contractors to handle your remodel professionally. If we say we will do it, you can count on it. We are reliable, on time, and we clean up after ourselves. Our pros will not drag your project out or say one thing and do another. We have built our reputation on being trustworthy, because in the remodeling business a contractor is only as good as his reputation, and our reputation is only as good as our last job. We will take care of your home remodeling project as if we were working on our own homes.
Remodelers in Kentucky You Can Trust
What can we help you with today? If it's a remodel, we have experience with it.
Our licensed, trained contractors can ...
Refinish basements
Build man caves
Add a home office
Construct a she shed
Remodel kitchens
Renovate bathrooms
Install new cabinets
Build new countertops
Lay new tile
Refinish floors
Rebuild bedrooms
Add on to your home
Build room additions
Add bedrooms
And much more!
If you can dream it, we can renovate it, remodel it, or build it.
Give us a call today and let our professional home designers and interior creative team dream with you about transforming your home with an interior home remodel from Georgetown Home Remodeling & Cabinets. Call today for a free consultation - 859-413-4244
We would love to earn your business. Customer satisfaction guaranteed, all pricing is 100% up-front!
Home Renovations
(Click to Enlarge)