Best Cabinet Store Georgetown KY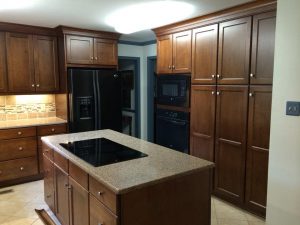 Custom Kitchen Cabinetry Georgetown, Frankfort, Versailles, Paris KY
At Georgetown Home Remodeling & Cabinets, we know cabinetry! Our selection of cabinets is one of the largest in Kentucky, and we believe when you get a quote from us you will find our prices are extremely competitive ... and by "competitive" we really mean our prices generally beat the pants off of the other guys.
In fact, we are confident enough that we often invite potential customers to field quotes from a couple of other companies before having our rep come out and show you what we can offer. Not only do we use the highest quality materials for our cabinets along with the finest manufacturers, our cabinetry is both luxurious AND affordable. If you find that hard to believe, just give us call and let us show you! Call 859-413-4244
Hands On Cabinet Buying Experience
When our cabinet sales rep comes to see you for your consultation, he will come equipped with plenty of samples you can see and touch. We have extensive catalog of high quality cabinets for your kitchen, bathroom, or other parts of the house.
If we for some reason DON'T have the exact style of cabinetry you're looking for, never fear - we are professional cabinet makers who can build whatever you can dream. Just let us know - if you can think it, we can build it!
Cabinet Maker in Georgetown KY
We produce and install cabinets made from a variety of materials. We sell cabinets made of solid wood - cherry, redwood, oak, and more. We sell cabinets made from other high quality materials like fiberboard, laminate, metal, melamine, and thermofoil just to name a few. If you'd like to get cabinetry from a factory, we sell particleboard cabinets, plywood cabinets, and more.
Regardless of the material, your finished new kitchen cabinets in Georgetown will be beautiful and functional after we install them for you.
We can also tear out your old cabinetry and remove it to replace with your new cabinets. We will clean up the space when we're done, and your new kitchen, new bathroom, or other living space will be a beautiful finished product when we're done.
Our licensed and trained remodeling contractors have years of experience installing cabinets, repairing cabinetry, and beautifying homes in Georgetown, Frankfort, Paris, and Versailles.
We would love to set you up with new cabinets, whether you need cabinetry for a new home construction or if you'd like to replace existing cabinets - we would love to earn your business today and give you the fresh, beautiful cabinets you've always wanted.
Call for a free quote at 859-413-4244
You may also feel out the Free Quote form on this website and one of our friendly cabinetry experts will contact you soon for a consultation.
Georgetown Home Remodeling & Cabinets - we know cabinetry! That's why 'Cabinets' is in our name.