Professional Remodeler in Georgetown KY
Professional Services
Best Remodeling Contractor in Kentucky
When it comes to choosing a contractor to handle your interior remodeling, we understand you have a choice. Thank you for checking out our website today - we hope it will lead to our being able to meet you and share with you a little more about what we can offer.
At Georgetown Home Remodeling & Cabinets, we believe we have an edge over our competition when it comes to quality, luxurious products at a price you can afford. That's why we routinely invite customers considering remodeling a home to check with the other guys too so they can compare apples to oranges.
At the end of the day, we believe we can give you a better deal, and our track record proves it. We have remodeled kitchens, remodeled bathrooms, and performed new room additions all over Kentucky, and in our wake we've left behind a trail of very happy homeowners. You will be no different!
Kitchen Remodeling Georgetown KY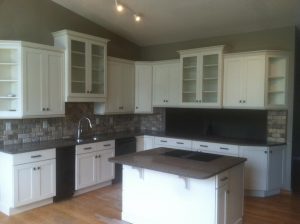 Are you considering upgrading your kitchen? Would you like new kitchen countertops? How about a new ceramic backsplash or new kitchen flooring?
Would you be interested in replacing that old kitchen hardware, appliance, or lighting with the latest and greatest kitchen gear available?
And what about those old kitchen cabinets? Being a local cabinet maker and cabinet dealer in Kentucky, we have an extensive library of cabinetry options available for homeowners in Georgetown, Frankfort, Versailles, Paris, and the surrounding areas. We can supply you with brand new beautiful cabinets for your kitchen, bathroom, or other interior space, and we install cabinets and replace cabinets as well. We will haul your old ones away for you, and leave you with a clean space after your install so you can enjoy your newly renovated home environment. Call for an estimate - 859-413-4244
Bathroom Remodeling Frankfort KY
You've been thinking for some time that something needs to happen with that old bathroom. You're tired of those worn out floors, that stained shower and tub, that sink that's constantly dripping, and those lights that flicker when the wind blows.
Let Georgetown Home Remodeling & Cabinets breathe new life into that old bathroom. We will renovate your space and build you a newly renovated bathroom that you can always be proud of. We can install a new bathroom vanity, bathroom flooring, bathroom lighting, hardware, showers, faucets, bathroom sink, toilet, and more.
Our professional design team will work with you to give you exactly what you want within your budget, and we guarantee customer satisfaction on all our remodeling projects and installations. If you can dream it, we can build it! Free consultations at 859-413-4244
Home Remodeling Paris KY
Been thinking about renovating a bedroom? Are you in need of a new home office? Would you like a man cave, she shed, or renovated finished basement? Have you been thinking about adding an extra bathroom, kitchen area, or new bar?
If it's remodeling or home renovation, we would love to help. Give us a call at 859-413-4244