Best Kitchen Remodeling Contractor Frankfort KY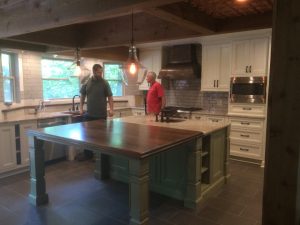 Quality Kitchen Remodel Frankfort KY
Are you in the market for kitchen remodeling in Frankfort, KY? Is that tired old kitchen in need of a transformation from a professional kitchen remodeler in Frankfort? Do you need new kitchen cabinets, kitchen countertops, kitchen flooring, kitchen tile, and kitchen hardware? Look no further than the friendly remodeling professionals at Georgetown Home Remodeling & Cabinets. We would love to serve you today!
When you hire us for your kitchen remodeling project, you're hiring professional remodeling contractors in Frankfort with decades of experiences and literally thousands of jobs under our work belts. When it comes to kitchen remodeling and bathroom remodeling, we have seen it all and can handle it all.
Complete Kitchen Remodeling Services Frankfort KY
Our professional team of kitchen designers and kitchen remodeling experts will be with you every step of the way for your kitchen remodel in Frankfort. When you hire us to handle your project for you, there will not be a need to hire any additional carpenters or contractors to perform services for you. We will handle the installation of your new plumbing, new electrical work, new kitchen cabinetry, kitchen countertops, kitchen lighting, kitchen flooring, tile and backsplash, appliances, and anything else you'd like to have in your new kitchen.
We are a one-stop kitchen remodeling shop, and we also have our own line of custom kitchen cabinetry for you to choose from that you can't get anywhere else!
Remodeled Kitchens Frankfort KY
When you hire Georgetown Home Remodeling & Cabinets, you are hiring the best kitchen remodelers in Kentucky. Our skilled craftsmen and master carpenters understand you have a choice when it comes to kitchen remodelers, and our team is considered the best for a reason. We understand our job is built upon our reputation for quality and customer satisfaction, and that reputation is only as good as the performance on our last project. That's why when it comes to handling your kitchen remodel in Frankfort, we will treat you like a member of our own family.
Our remodeling work is backed by our limited warranty, and if there are any issues or problems during your new kitchen installation we will address them quickly and to your complete satisfaction.
Speedy, Professional Remodeling Service in Kentucky
If you'd like to investigate hiring our contractors to work on your new kitchen in Frankfort, KY, the process is simple: just give our friendly kitchen design team a call at 859-413-4244
Our rep will set an appointment with you, visit your home, take measurements and listen as you express what you'd like in your new kitchen, then he'll show you the vast range of options available through our company along with a free quote on pricing that will fit your budget. Once you select a design and sign a contract, we will set a date to begin construction, and we are typically able to do so within a fairly short amount of time.
When your service is complete, we will do a final walkthrough with you and make sure everything is built to your complete satisfaction. All you have to do from there is enjoy your brand new kitchen in Frankfort!
If we can help you with our professional, highly prized remodeling services in Frankfort, please give us a call today and let us provide you with a free consultation. Just call 859-413-4244
You may also fill out the Free Quote form on this website and one of our friendly kitchen remodelers will contact you soon.
Thank you for choosing us for your home remodeling project in Frankfort! We look forward to making you our very satisfied customer.