Professional Tile & Flooring Installer in Kentucky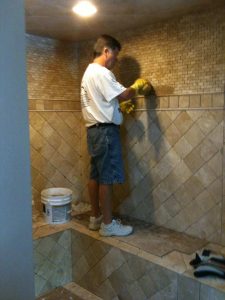 Bathroom Tile Contractor Georgetown KY
Thinking about getting new tile in your kitchen or bathroom in Kentucky? Would you like to shop the latest style in decorative tile? Are you interested in new hardwood or laminate flooring for your kitchen or bathroom? Would you like new ceramic tile for your shower, a new tile walkway, tile foyer, or durable flooring for those high traffic areas in your house?
Look no further than the professional tile installers and flooring contractors at Georgetown Home Remodeling & Cabinets!
Kitchen Floor Frankfort KY
At Georgetown Home Remodeling & Cabinets, we use only the highest quality materials from reputable manufacturers. When you purchase new tile or new flooring with us, you can bet you're getting premium quality at affordable prices.
There's no shortage of options either. We sell and install ...
Hardwood floor
Laminate flooring
Bamboo floors
Vinyl Flooring
Cork floors
Ceramic tile
Linoleum
Marble Tile
Resin tiles
Quarry tiling
Marble tiles
Porcelain tilling
Granite tiles
Travertine tiling
Cement tiling
Mosaic
Metal
And more!
We have tile and flooring to match any look and perform any function! Our tiling installers and flooring contractors have years of experience installing new tile in Georgetown, new flooring in Paris, Versailles, and the surrounding areas. Friendly contractors would love to put their experience to work for you to breath new life into your interior space, whether a newly remodeled bathroom, renovated kitchen, room addition, or other area of home remodeling.
Professional Remodeling Design Team in Kentucky
Our installers and home designers are waiting to speak with you today about your project. How can we help you? Please give us a call for a free consultation at 859-413-4244
We would love to speak with you today and help you by laying new tile or installing a new floor in your home in Georgetown, Frankfort, Paris, Versailles, or the surrounding areas in Kentucky,
Please give us a call or fill out the Free Quote form on this website, and we'll be in touch with you to speak about your project soon.
Thank you for being our customer! You will not be sorry when you do business with Georgetown Home Remodeling & Cabinets!